Who are we?
---
'Inspiring you to travel. Helping you to explore'
That was our vision when we started out on our travel blogging journey back in 2016.
Somehow, a few years back, we managed to find the time to work, travel and blog. Now that seems almost impossible. So unfortunately we posted our last blog post a few years ago, but we have left them up on this site for anyone that's interested.
Our main focus now is the domain names rentals business and getting this off the ground. At myplaceintheworld.com we own over 190 top level .com and .co.uk domains names, all coming under the "myplacein(country name)" branding. The rental of these domain names are primarily aimed at people who own properties abroad for let, or estate agents offering holiday villas/apartments for sale, and who want a easy to remember domain name for their website. A great domain name gives you a great identity and of course the more memorable it is, the easier customers will find you on the web.
We started 'collecting' these domain names a few years ago, whilst we were trying to promote the rental of our own holiday apartment in Turkey. First of all we purchased the domains http://www.myplaceinturkey.com / .co.uk and used these as the identity for our apartment rental. This of course enabled us to change our difficult to remember 'free' domain name without changing our site.
Since that first domain name purchase we now have nearly 100 different countries/places with the 'myplacein' .com and/or .co.uk domain names in our ownership. Probably for the same reasons our blogging stopped we had, up until 2018, not done an awful lot with them (just renewing the ownership every year).
And that's where we are today. One day we may get back to blogging, but for the moment we'll continue to share our photos from our own travels via instagram and the odd facebook post.
About our blog posts…..
We started this blog to share our first hand experience of our travels, advice that we believe could help make your first 24 to 48 hours in a destination as stress free and enjoyable as possible. Before each trip we seem to spend weeks and weeks just researching things to do, restaurants, bars, transport, accommodations etc. Most of the time it pays off and this is the 'stuff' you'll find in our posts. Ironically, whilst the internet has opened up the ability to review and to read reviews, the anonymity of it all does leave us sometimes feeling unsure.  The problem is that there are so many review sites out there, we never really know what to believe, what to trust or how big a pinch of salt to take it with. Hopefully our blog will give you some idea of the things we like, hopefully it'll be good for you too. Of course we don't want to spoil to much of your fun, travelling is all about new adventures and exploring for yourself, right?
All blogs are written by us and all photos are our own and copyright of Martyn Tapscott unless otherwise credited. If you wish to use any of the content please feel free to contact us, we'll probably be happy for you to share.
As this is our blog, that means that the content is ours, all opinions that we express are our own and are current only at the time of writing the post. Being reasonably open minded and human, we change our minds, and from time to time older blogs may not reflect our current thoughts. We'll always try to update any content we believe is no longer true, inaccurate or does not represent our current opinions  But we are making no promises, we could just be too busy…travelling hopefully.
We also make mistakes – see previous reference to being human – even after proof reading three or four times. If you spot something that's not right that could cause other travellers problems please let us know, we'll be really grateful!
Hopefully you won't find any of our content offensive. We do not set out to purposely offend anyone. However if we have over stepped the mark on any cultural or language content, again we are happy for you to educate us and we'll review the blog post.
Please feel free to leave any comments on the posts, it would be great to hear other travellers opinions and thoughts. We do however reserve the right to remove any offensive, spam, rude and unhelpful comments, and will block any further contact where we can.
There are some things we can't take responsibility for sorry. Where we've  included external links, they will have been accurate at the time of posting, and will link to genuine websites that help you with your travelling experience. However, things change, and links may become dead or sometimes connect to altered content that may not be appropriate. Again if you experience something from our links that raises eyebrows, we'll be happy to remove them.
And so onto sponsorship and money. Any blog post or content that we are being paid for in money, goods or services, we will make this clear in the post. We also intend to be true to ourselves in anything we are 'paid' to post, and we will certainly not blog about anything that we do not 100% agree with. You may find some ads displayed on our site, which hopefully one day will help us pay for the upkeep of the site.
If you like what you see, we also have an active Instagram account, Twitter feed and Facebook page where we share our tips, photos and links.
Hopefully that covers all the boring bits.  Cheers!!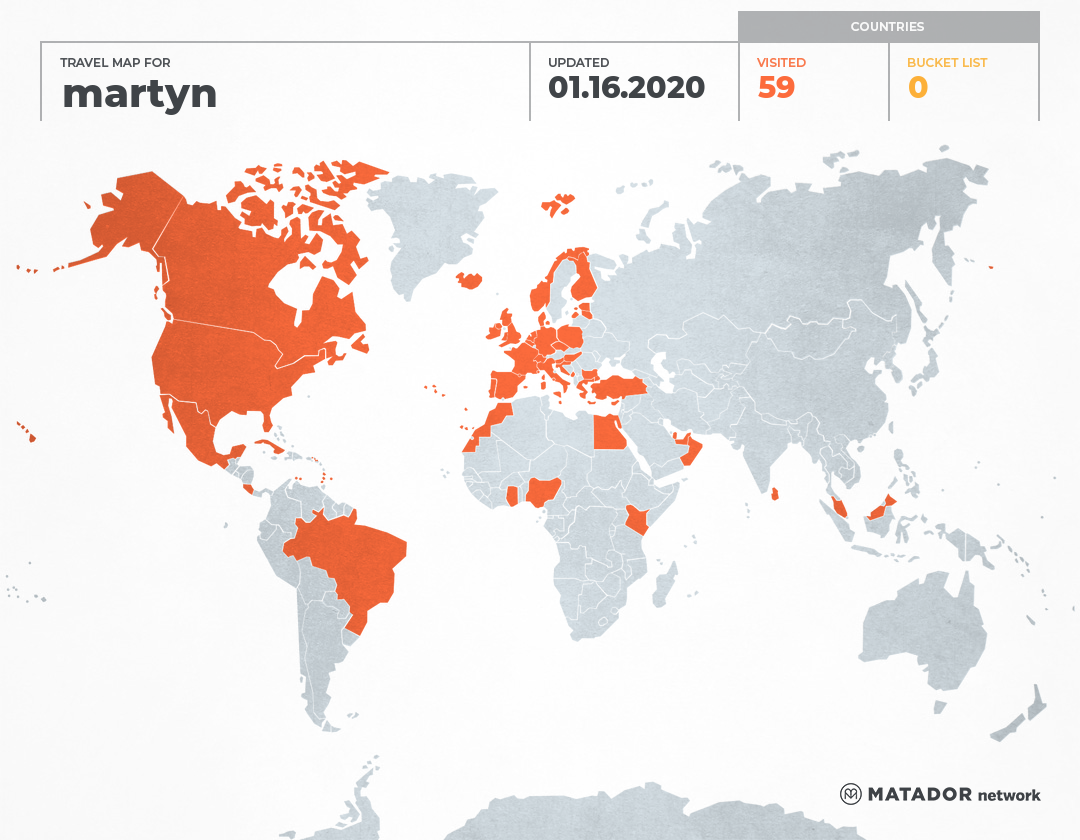 myplaceintheworld has been to: Andorra, United Arab Emirates, Antigua and Barbuda, Aruba, Barbados, Belgium, Bulgaria, Bonaire, Saint Eustatius and Saba, Brazil, Canada, Switzerland, Costa Rica, Cuba, Curacao, Cyprus, Czech Republic, Germany, Denmark, Estonia, Egypt, Spain, Finland, France, United Kingdom, Grenada, Ghana, Greece, Croatia, Hungary, Ireland, Iceland, Italy, Kenya, Saint Kitts and Nevis, Saint Lucia, Sri Lanka, Latvia, Morocco, Monaco, Montenegro, Malta, Mexico, Malaysia, Nigeria, Netherlands, Norway, Oman, Poland, Portugal, Qatar, Slovenia, Sint Maarten, Turkey, United States, Vatican, Saint Vincent and the Grenadines, British Virgin Islands.
Get your own travel map from Matador Network.
myplaceintheworld. Where's your place?
Martyn Tapscott & Dale Cogbill